Enable Viacam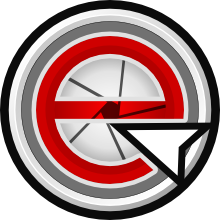 Enable Viacam (eViacam) is a mouse replacement software that moves the pointer as you move your head.
It works on standard PC equipped with a webcam. No additional hardware is required.
It's completely free, open source and easy to use!


Download eViacam
Download eViacam (mirror #1)
Version 2.1.0 · Windows · 11.6 MB
Other systems and versions
Features
Hands-free: Control your computer with intuitive head movements. No need to use your hands!

Wireless: Works with any good quality webcam. No cables, no dots, no additional hardware required.

Easiness and simplicity: Simple installation, intuitive use. The integrated configuration wizard gets you started easily.

Customizability: Pointer speed, motion acceleration and smoothness, dwelling time, and many other variables can be adjusted to fit the user's needs.

User autonomy: Specifically designed to eliminate the need for assistance after installation.
Download and installation
Android
GNU/Linux
Ubuntu
Open a terminal and run:
sudo add-apt-repository ppa:cesar-crea-si/eviacam
sudo apt-get update
sudo apt-get install eviacam
Other distros
Compile from sources. See INSTALL
Get support
Visit forums or contact us.
eViacam user's manual
See README
External resources
Tutorial about compiling and using eViacam 1.0.1. (Portuguese)
Thanks to Alessandro de Oliveira Faria
Contribute
You found a bug. Report it.

You want to see a new feature implemented. Request it.

Make a donation. Your support will encourage us to keep improving this project. There is no minimal amount for your donation.
Awards
Thanks
Julian Aloofi (Bug reports)
Jordi Alsina (coding)
AluminiuM (Asturianu translation)
Christian Bieder (Deutsch translation & middle click)
Pascal Bleser (openSUSE packager)
Miguel Bouzada (Galego translation)
Antonio Capone (website Italiano translation)
Slava Dubrovskiy (Sisyphus packager)
Carles Garrigues (Occitan translation)
Karl L. Gechlik (makeuseof.com)
Sébastien Lecointre (Français translation)
Uzair Asad (new logo and icon design)
Wasilis Mandratzis (Greek translation)
Giuseppe Masciopinto (Italiano translation)
Jiro Matsuzawa (Japanese translation)
Alexandre Mrvosh
Alessandro de Oliveira Faria (Tutorial and demo video)
Wellyngton de Oliveira (Portuguese translation)
Anıl Özbek (Türkçe [Turkish] translation)
Yaron Shahrabani (עִבְרִית [Hebrew] translation)
Sergey Shkurat (Russian translation)
Agnius Svigaris (Lithuanian language translation)
Samuel Thibault (Bug reports)
Aldo Maria Vizcaino (Linux desktop entry)
Theodore Watson (videoInput code)
Xiaoyu Wang and vipuser2000 (Chinese (simplified) translation)
Chinrur Yang (楊沁儒) (Chinese (Taiwan) translation)
YannUbuntu (French translation)
... and many other! Thanks all!

Reviews
Related projects
Switch Viacam
Webcam based switch emulator
SITPLUS
Ludic-therapeutic activities for people with disabilities
About eViacam
Copyright © 2008-17 Cesar Mauri Loba (CREA Software)
Enable Viacam is free software released under the terms of the GNU General Public License version 3.
Contact us: info at crea-si dot com